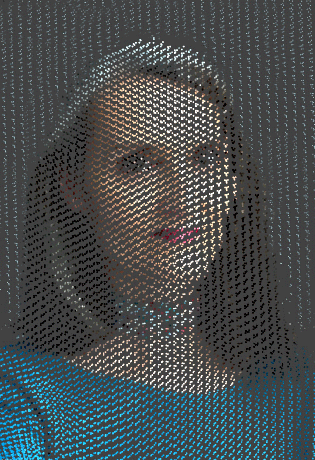 Associate Professor
REINHUBER, Elke Evelin
Keywords
Counterfactualism
Stereoscopy
Expanded Photography
Media Art
Conceptual Art
Interventions
Performance to Camera
Virtual Reality
Augmented Reality
Immersive Media
Narrative Structures
Cultural Heritage Visualisation
Art & Ecology (Sustainability)
Background
Media artist and scholar Elke Reinhuber is dreaming of a life on the Holodeck, enabling us to explore alternative realities with ease.
With her background in applied photography, she has experienced a wide range of cameras, of the analogue and digital realm. While being fascinated, but also frightened by the omnipresent camera lenses, which are pointing at each and everyone, she is curious to explore other aspects of photography such as stereoscopic imaging, panorama photography, and further methods of recording light or other electromagnetic radiation, even beyond the visible spectrum. When immersed herself for the first time in the panoramic photographs she had prepared for a 360° environment, she realised, as a professionally trained photographer, that the heydays of flat screens and static images on the wall were gone forever – the medium was finally no longer constricted by the limitations of the frame.
In her work, she explores strategies of storytelling and different modes of exhibiting to emphasise the parallel existence of multiple truths of the here and now. In regard to the content, her interests concentrate on the correlation between decisions and emotions, while exploring unfamiliar and new approaches towards visualisation and presentation. With her interest in representing cultural heritage digitally, Elke Reinhuber created immersive S3D video installations, 360° videos for dome environments and panoramic screens as well as VR and AR projects.
Before moving to Hong Kong, Elke gained international experience teaching and researching at ADM, School of Art, Design and media at NTU Singapore, but also at GUC Cairo and HBK University of the Arts Braunschweig, Germany
After graduating from UDK Berlin as master-class student (Meisterschülerin) of Joachim Sauter, she received an EIPRS scholarship to pursue her PhD at COFA (now Art & Design), UNSW, Sydney for her exploration on choice, decision making and counterfactuals in media arts. During this period, she also enjoyed supervision from Isaac Julien and Armin Linke at HfG Karlsruhe.
Since then, Elke Reinhuber has been invited to speak at international conferences and to exhibit her award winning artistic research in internationally renowned institutions and events such as V&A Digital Futures, London; FILE festival, Brazil; GRID Biennial Photofestival Amsterdam; ZKM Centre for Art and Media, Karlsruhe, Germany; Museum für Fotografie, Winterthur, Switzerland; BOZAR Brussels, Belgium and Manifesta Palermo, Italy.