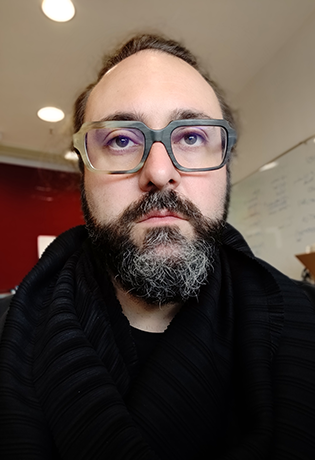 Associate Professor
KLEIN, Tobias
簡鳴謙
Keywords
Architecture
Augmented Materials
Contemporary Art
Digital Craft
Extended Realities
Installation
3D Printing
Background
Tobias Klein (簡鳴謙) is a trained Architect and Artist. His work articulates a syncretism of contemporary CAD/CAM technologies with site and culturally specific design narratives, intuitive non-linear design processes, and historical cultural references. Through his works and writings, he established the notion of Digital Craft as an operational synthesis between digital and physical materials and tools as poetic (Poïesis) and technical (Technê) expressions, opposing a traditional dualistic separation of digital work-flows and analogue making and material understanding.
His works have been internationally exhibited at venues such as the London Science Museum, the V&A, the Venice Architectural Biennale, Ars Electronica, the Science Gallery (Melbourne), the container (Tokyo), the Bellevue Arts Museum, the MoCA Taipei, the Museum of Moscow, the Museum of Vancouver and at Art Basel Hong Kong. In 2020, The University Museum and Art Gallery, Hong Kong, opened a retrospective exhibition of his works from the past 15 years, accompanied by a publication with the same title as the exhibition, Metamorphosis or Confrontation.
He holds a PhD from RMIT, a Master of Architecture and Diploma in Architecture with Distinction form UCL, Bartlett School of Architecture and a German Bachelor equivalent in Architecture from the RWTH Aachen. Before coming to Hong Kong he ran a postgraduate studio at the Architectural Association and the Royal College of Art in London.
Klein supervises PhD students and postdoctoral fellows in the field of Digital Craft, Extended Realities and Augmented Materials.