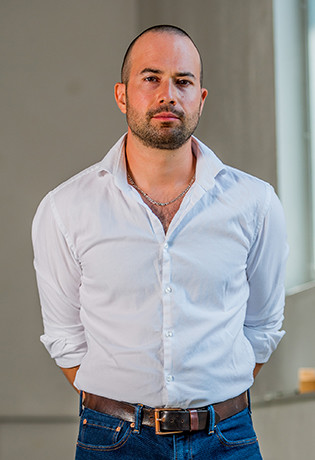 PHD Student
JUST, Michael
Keywords
Consciousness
Animality
Ecology
Technicity
Posthumanism
Machine Intelligence
Research Area(s)
Immanent Sentience: On Animality and Technicity from the Perspective of Information-Processing
Background
Michael Just is an interdisciplinary artist based in Berlin, Germany, Austria and Hong Kong. He studied Fine Art at the Kunstakademie Düsseldorf with Daniel Buren (Master and Meisterschüler), received an MFA in Art Practice from Goldsmiths, University of London and participated in the Whitney Museum of American Art Independent Study Program in New York City. He is currently pursuing a PhD at the City University of Hong Kong, School of Creative Media and is also developing the transdisciplinary residency and research project CASTED - Center for Aesthetic, Social, Technological and Ecological Discourse in rural Austria. His critically-oriented research takes a posthumanist approach and is looking into information-processing in ecological systems, biological organisms and machines. It employs mediums related to biotechnology, plants and agriculture, microelectronics, AR, VR and immersion.
He was a DAAD Postgraduate Fellow and a recipient of the EHF-Fellowship, Konrad-Adenauer-Foundation. Residencies include the Palazzo delle Arti Napoli, Villa Aurora Los Angeles, Dongcheng District and Goethe-Institut Beijing, the National Museum of Modern and Contemporary Art Seoul, 16x16 Lagos and the Agder Center for Contemporary Art Kristiansand. He was the recipient of the Deutsche Bank Prize for Emerging Sculptors as well as several project and research grants from the DAAD, Incontri Internazionale D'Arte, the J.F. Costopoulos Foundation, the Goethe-Institut, the Konrad-Adenauer-Foundation, the Society for Sino-German Exchange and Institut für Auslandsbeziehungen IFA.
His work is held in international collections and has been shown in institutions around the world. He has presented and participated in conferences and panel discussions internationally and has taught in the United States, Europe and Asia. Most recently, he was a lecturer at the China Academy of Art, School of Design and Innovation, Hangzhou, for which he developed the class "Consciousness, Machines and Ecologies".