Metamorphosis Or Confrontation

Exhibition

Metamorphosis or Confrontation, Tobias Klein's most extensive solo exhibition to date on the theme of Digital Craftsmanship.

9:30 am to 6:00 pm (Tuesday to Saturday)
1:00 pm – 6:00 pm (Sunday)
Closed on Mondays, University and Public Holidays

Liu Haisu Gallery, 1/F T.T. Tsui Building, University Museum and Art Gallery, HKU, 90 Bonham Road, Pokfulam, Hong Kong
[ARTIST TALK] DIGITAL CERAMICS: A CONVERSATION BETWEEN DR FLORIAN KNOTHE AND DR TOBIAS KLEIN
(UPDATED 26/6/2020)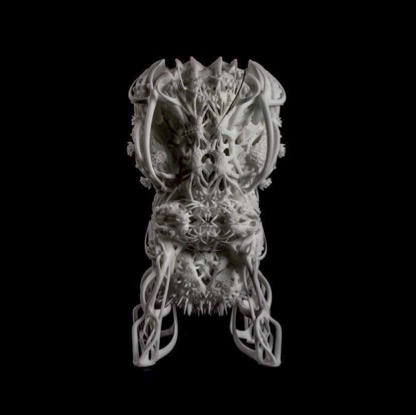 Vessels of Vanitas II, Tobias Klein, 2016, Resin (white), 3D print (Stereolithography Apparatus SLA), Edition of 3, 75 x 25 x 40 cm. © Tobias Klein
Transferring the qualities of cultural craftsmanship from Chinese Ceramics to digital manufacturing and 3D printing
Date:
Saturday, 27 June 2020
Time:
4:00pm - 5:30pm
Venue is now changed to

Liu Haisu Gallery, 1/F T.T. Tsui Building, University Museum and Art Gallery, HKU, 90 Bonham Road, Pokfulam, Hong Kong

. Please enter via the Fung Ping Shan Building and not the T.T. Tsui Building entrance.
Language:
English
Cost:
Free admission, all are welcome.
The artist talk will be conducted on site and via Zoom.
To attend the artist talk on site, please click on this link to register: https://bit.ly/digitalceramics (FULL)
To attend the artist talk online, please click on this link to join: https://hku.zoom.us/j/96233390536pwd=cUxaQjlkUCtoa0hWZXBhOENvUUs3UT09
Meeting ID:
962 3339 0536
Password:
314020
*Please be ready 5 minutes prior to the scheduled time.
 Digitalisation transforms the way in which a society perceives and respects the field of Arts & Crafts. In 2012, 3D printing was described in the Economist as being a disruptive technology equal to the impact of the Industrial Revolution. In June 2018, Chinese scientists achieved the 3D printing of ceramics in microgravity using lunar dust. This feat continues thousands of years of exploration in the use of new materials, novel craftsmanship methods, and technological innovation within the development of Chinese ceramics.
Chinese ceramics are an art form renowned the world over for their technical sophistication, beauty, and wide-spread cultural influence. For thousands of years, Chinese potters have experimented with clay and engineered artefacts that exemplify a cultural high point in each era. Today, Chinese ceramics continue to play a crucial cultural role on the international art scene. The market looks towards China for art, and new technologies used in innovative applications.
In this field, 3D printing is not yet used to innovate, but to replicate sections of damaged artefacts or entire pieces based on 3D scans of the originals. The resulting surrogates are often criticized for their inauthenticity. If used only as a technology for replication, 3D printing currently seems unable to transfer the essential aspects of craft and material ontologies of cultural artefacts, such as tool marks, material haptics or patina—the so-called aura of cultural objects made by hand and the discourse about the emergence of a Digital Craftsmanship.
Speakers:
Dr Tobias Klein
Born in Bonn, Germany, Tobias Klein is a German Artist/Architect. He is currently an Assistant Professor in the School of Creative Media at City University of Hong Kong.
Klein's combined artistic and architectural works construct the emerging practice of Digital Craftsmanship, through which he has established an operational synthesis of digital and physical materials and tools as poetic (Poïesis) and technical (Technê) expressions. Klein's works are based on the use of contemporary CAD/CAM technologies with site and culturally specific narratives, intuitive non-linear design processes, and historical cultural references.
His work has been exhibited internationally at the London Science Museum, the V&A, the Venice Architectural Biennale, the Science Gallery (Melbourne), the container (Tokyo), the Bellevue Arts Museum, the MoCA Taipei, and the Museum of Moscow and Museum of Vancouver. His works are also found in the permanent collection of China's first 3D Print Museum in Shanghai, the Museum of Glass in Tacoma (USA), and the Antwerp Fashion Museum (MoMu).
Dr Florian Knothe
Dr Florian Knothe teaches the history of decorative arts in the 17th and 18th century with particular focus on the social and historic importance of royal French manufacture. He has long been interested in the early modern fascination with Chinoiserie and the way royal workshops and smaller private enterprises helped to create and cater to this long-lasting fashion. Dr Knothe worked at The Metropolitan Museum of Art focusing on European Sculpture and Decorative Arts, and on European and East Asian glass at The Corning Museum of Glass, before his current position as Director of the University Museum and Art Gallery at HKU.
Dr Harald Peter Kraemer
is Associate Professor at School of Creative Media of City University of Hong Kong and Head of the Curating Art & Media stream of the Master of Arts in Creative Media program. Since his PhD in Art History on Museum Informatics & Digital Collections and his MA in Museum and Curatorial Studies, he has been involved in more than 60 museum management projects and he has produced more than 120 interactive online and offline applications. He curated and designed exhibitions like ISEA2016 in Hong Kong, The Age of Experience (HK 2015/Vienna 2016) or Interval in Space (Nairs/HK 2017). Kraemer has written and published widely on hypermedia design, museum informatics, digital collections, and contemporary art. Recent publications: Robert Lettner. Das Spiel vom Kommen und Gehen (2018). Coming: Multimedia Classics - Hypermedia Hermeneutics - Transmedia Storytelling.
Metamorphosis or Confrontation, Tobias Klein's most extensive solo exhibition to date on the theme of Digital Craftsmanship. Klein was trained as an architect at the Bartlett School of Architecture, University College London. Before relocating to Hong Kong in 2014, he taught for more than ten years at the world-renowned Architectural Association School of Architecture and the Royal College of Art. Klein holds a PhD from RMIT Melbourne and currently teaches in the School of Creative Media at City University of Hong Kong. By exploring applications of 3D printing in architecture, art, design and interactive media installations, Klein has created a fusion of contemporary CAD/CAM technologies built from natural materials, found objects and cultural historical references. In his work, Klein develops the emerging discipline of Digital Craftsmanship as an operational synthesis between digital and physical tools and techniques.
The UMAG exhibition, curated by Harald Kraemer, traces Klein's work over the past decade and is structured in four distinct areas: Bones, Masks, Mutations and Forces. Each theme unravels the relationships and evolution of the artist's body of work, while at the same time demanding that visitors take a position of negotiation, evolution or confrontation.
The first room, Bones, serves as a general introduction. Full of references and models that were both inspiration and source material for the artist, the space has been transformed into a cabinet of curiosities (Wunderkammer). The second room, Masks, is dedicated to a single work. Inspired by the intricate detail and cultural allusions of Cantonese Opera masks, this interactive installation transforms the visitor into a participatory player within a landscape of discoveries and unexpected moments. Mutations, the third exhibition space, places three different works in a stimulating constellation—The Invisible Human, Melted Proportions and Witnesses—while thematising a shift in time and space. In the final room, Forces, Klein establishes a dialogue between traditional forms of Chinese wood carving, experimental glass blowing and the ornamentation of digital transformations. 
Seen as a whole, the individual rooms establish myriad readings. On the one hand, they allow for an understanding of the mastery of both digital and analogue materials while expressing the ability to apply interpretative and communicative techniques between old and new. This entire exhibition may be regarded as an extended Wunderkammer—a total work of art—which impressively presents the rich tapestry of Digital Craftsmanship.
ARTIST-LED GUIDED TOUR
Saturday, 13 June 2020 | 2:00pm - 3:00pm | Please click here to register
Saturday, 20 June 2020 | 11:00am - 12:00nn | Please click here to register
Venue: 1/F T.T. Tsui Building, University Museum and Art Gallery, HKU
Language: English
Cost: Free admission. No walk-in accepted.  ID (HKID/Passport) matching registered name required for entry.
**Please enter UMAG via the Fung Ping Shan Building entrance.
---
[WORKSHOP] DIGITAL CRAFTSMANSHIP - 3D PRINTING, SCANNING AND MODELING
As part of the exhibition Metamorphosis or Confrontation, the artist Tobias Klein will host a series of workshops with a focus on 3D scanning and printing. Participants will scan found objects, digitally alter and design the scanned forms, and then 3D print the results. 
| | | | |
| --- | --- | --- | --- |
| Session   | Date     | Time   | Content |
| Session 1 | Saturday, 20 June 2020 | 2:00pm -5:00pm | Introduction to 3D Printing and 3D Scanning |
| Session 2 | unday, 21 June 2020 | 2:00pm -5:00pm | 3D Printing Modeling |
| Session 3 | Saturday, 27 June 2020 | 2:00pm -3:30pm | Touch up and Conclusion |
Venue: Workshop Room, G/F Fung Ping Shan Building, University Museum and Art Gallery, HKU, 90 Bonham Road, Pokfulam
Cost: HK$200 per person
Audience and Limit: Aged 18 or above, maximum 8 people per class
Language: English
Materials: All printing materials will be provided. Participants are required to bring their own laptop to class. A software is required to be downloaded prior to the class, more information will be available when closer to date.
Note: Participants are required to attend ALL sessions. 
Registration & Enquiries: Registration opens from 26 May to 13 June 2020.
For enquiries, please contact Chelsea Choi: cchelsea@hku.hk / 2241 5509.
For details of the workshop, please refer to https://www.umag.hku.hk/en/event_detail.php?id=6353582
---
香港大學美術博物館很榮幸呈獻《蛻變或對抗》展覽,本展覽是簡鳴謙迄今舉辦過最全面的數碼工藝主題個展。簡鳴謙是一名建築師,畢業於英國倫敦大學巴特雷建築環境學院。在二零一四年定居香港前,他曾在舉世聞名的倫敦建築聯盟學院和皇家藝術學院授課長達十多年。簡鳴謙在皇家墨爾本理工大學取得哲學博士學位,目前任教於香港城市大學創意媒體學院。
簡鳴謙通過探索三維打印技術在建築、藝術、設計和互動媒體裝置等領域的應用,創造出一套建基於自然物料、現成物和文化歷史典故,糅合了當代電腦輔助設計及製造系統的技術。他的作品將新興的數碼工藝專業,發展成一種介乎數碼與物質工具和材料的運作綜合。
由孔慧鋭策劃的《蛻變或對抗》展覽以骨頭、面具、變異和力量四個獨特的領域,探索簡鳴謙過往十年的創作。每個展區的主題既揭示一眾作品之間的關係和演化,同時邀請觀眾投入其中,作出協商、演變或對抗。第一展區「骨頭」是本展覽的序篇,展場幻化成一所珍奇屋(Wunderkammer),佈滿那賦予藝術家創作靈感和啟發的參考資料和模型。第二展區「面具」精選展示一件互動式藝術裝置,其創作靈感源自粵劇面具上複雜精緻的圖案和文化隱喻。這件裝置讓觀眾置身於一個充滿探索發現和意外驚喜的場景,搖身一變成為積極踴躍的玩家。第三展區「變異」,以時間和空間的轉移為主題,在星羅棋佈、充滿啟發性的空間內展出三組不同的作品——〈隱形人〉、〈熔融比例〉與〈見證人〉。在最後的「力量」展區,簡鳴謙建立起一種中國木雕的傳統造型、實驗玻璃吹製和數碼轉型的裝飾之間的對話。
整體而言,各個展區帶出多方面涵義。它們既使人了解到藝術家能夠同時駕馭數碼和類似物材料,也展現出他可在新舊之間運用一己的演繹和溝通技巧。本展覽反映數碼工藝多元豐富的內涵,可被視為一所擴建的珍奇屋——整體藝術作品。
展覽詳情
展出日期:2020年5月20日(星期三)至2020年8月30日(星期日)
開放時間:
星期二至星期六,上午9時30分至下午6時
星期日,下午1時至6時
逢星期一、大學及公眾假期休息
地點:香港薄扶林般咸道90號 港大美術博物館徐展堂樓1樓
電話/ 電郵:(852) 2241 5500 (一般查詢) / museum@hku.hk
費用:免費入場
詳情請參閱:http://www.umag.hku.hk/tc/