Current Perspectives In Game Studies - Spring/Summer 2018

Seminar

M1052 Creative Media Centre School of Creative Media City University of Hong Kong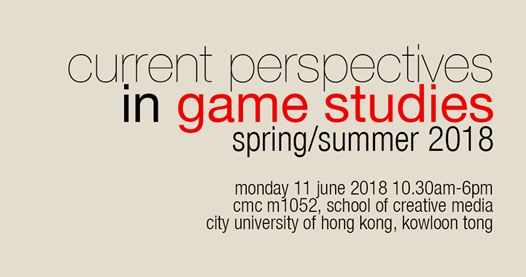 Monday 11 June
10:30am – 6pm
M1052 Creative Media Centre
School of Creative Media
City University of Hong Kong

Over the past few decades, computer game studies has emerged from the niches of academia into the mainstream of the study of media and culture and today its scope encompasses a number of interdisciplinary perspectives. This seminar introduces contemporary viewpoints in game studies, ranging from game hermeneutics to game ontology, and from game cultures to gamification, game design and the politics of gaming.

The seminar is open to all. Due to limited seats please RSVP by email to Mr. Johnathan Harrington: jharringt3-c@my.cityu.edu.hk
Program
10:30 - 10:45
Opening words
Session 1 (Chair: Johnathan Harrington, PhD candidate, School of Creative Media)
10:45 - 11:15
Embedding for Narrative Construction and Delivery in Games
Huaxin Wei,
Hong Kong Polytechnic University
11:15 - 11:45
From Kids to Geeks: Mediating Digital Literacy Learning Among Computer Gamers
Yong Ming Kow,
City University of Hong Kong
11:45 - 12:00
break (15mins)
Session 2 (Chair: Johnathan Harrington, PhD candidate, School of Creative Media)
12:00 - 12:30
Labor and Gamer-led innovation in Asia
Peichi Chung,
Chinese University of Hong Kong
12:30 - 13:00
Esports in Chinese universities: a case study from Ningbo
Paul Martin,
University of Nottingham, Ningbo
13:00 - 14:00
lunch (60mins)
Session 3 (Chair: Peter Nelson, PhD candidate, School of Creative Media)
14:00 - 14:30
Against Gamification: Unmasking the rhetoric of a current fad
Espen Aarseth,
IT University of Copenhagen, Denmark
14:30 - 15:00
The Videogame Left: The Politics of Games and Gamer Culture
Alfie Bown,
Hang Seng Management College
15:00 - 15:30
Lootboxes everywhere - gamification through random mechanism rewards
Pawel Grabarczyk,
IT University of Copenhagen, Denmark
15:30 - 16:00
Politics by Other Means: Post-Digital Gameplay in Hong Kong
Rolien Hoyng,
Chinese University of Hong Kong
16:00 - 16:15
break (15mins)
Session 4 (Chair: Ariel Huang, PhD candidate, School of Creative Media)
16:15 - 16:45
Boredom as the Root of World-Disclosure in Mundane Vehicle Simulators
Olli Tapio Leino,
City University of Hong Kong
16:45 - 17:15
Hong Kong Arcade Past and Present
Hanna Wirman,
Hong Kong Polytechnic University
17:15 - 17:45
The Asiatic and Virtual Others in Imaginary Maps
Christopher B. Patterson,
Hong Kong Baptist University
17:45 - 18:00
Closing words: Enhancing game studies dialogue in Hong Kong
Speakers
Huaxin Wei, Hong Kong Polytechnic University
Huaxin Wei is an assistant professor in the School of Design of the Hong Kong Polytechnic University, where she works in the areas of interactive narrative, game design and analysis, and interaction design. Her game research has resulted in a descriptive framework for analyzing video games from various narrative perspectives. Huaxin earned a PhD in interactive arts and technology from Simon Fraser University, Canada and an M.Sc. in computing science from University of Alberta, Canada.

Yong Ming Kow, City University of Hong Kong
Dr Yong Ming Kow is a social computing scientist in the field of human-computer interaction. His research focuses on studies of community cultures around media design and development as informed by ethnography. In particular, he is investigating collaborative work and practices within research areas including computer games, peer collaboration, digital youth, and novel uses of media artifacts. Yong Ming has also published extensively in other conferences, journals, and book chapters on digital media and learning, computer games, and on China. He is currently an Assistant Professor at the School of Creative Media at City University of Hong Kong.

Peichi Chung, Chinese University of Hong Kong
Peichi Chung is an assistant professor in the Department of Cultural and Religious Studies, The Chinese University of Hong Kong. Her research interests include game industry studies, cultural policy and popular cinema in East and Southeast Asia. She has published journal articles and book chapters that compare game industry dyanmics in Asia. Her current project looks into the mapping of digital distribution network for independent game developres in East Asia

Paul Martin, University of Nottingham, Ningbo
Paul Martin is an assistant professor in digital media and communications in the School of International Communications, UNNC. His current research areas are digital game studies and technology in the classroom. His work in the area of game studies focuses on textual analysis, expression in games, and the phenomenology of digital game play. He is also conducting research on Japanese digital games as expressions of contemporary Japanese culture.

Espen Aarseth, IT University of Copenhagen, Denmark
Espen J. Aarseth is a Professor of Game Studies and the Head of the Center for Computer Games Research at IT University of Copenhagen, Denmark. Previously, he co-founded and was a professor at the Department of Humanistic Informatics at the Universiy of Bergen. Aarseth's influential work includes his 1997 book Cybertext: Perspectives on Ergodic Literature, which defined many theoretical questions which would later face game studies. After Cybertext, he went to be one of the key figures in the establishment of game studies as a discipline. In 2001, he co-founded the academic journal Game Studies and has since been its editor-in-chief.

Alfie Bown, Hang Seng Management College
Alfie Bown is author of Enjoying It: Candy Crush and Capitalism (Zero. 2015) and The Playstation Dreamworld (Polity, 2017). He is an assistant professor at HSMC Hong Kong and writes journalism for the Guardian, Paris Review and other places.

Pawel Grabarczyk, IT University of Copenhagen, Denmark
Pawel Grabarczyk is a post-doc at the Center for Computer Games Research at IT University of Copenhagen. He works in the field of analytic philosophy and his main interests in philosophy are philosophy of language and philosophy of mind. Since 2012 he started to work in game studies research, where he is mostly interested in game ontology, representation, virtual reality studies, and demoscene.

Rolien Hoyng, Chinese University of Hong Kong
Rolien Hoyng is an Assistant Professor in The School of Journalism and Communication at The Chinese University of Hong Kong. Her work is primarily situated in Istanbul and Hong Kong. It explores digital infrastructure in relation to urbanism as well as digital culture. Topics she writes about include data politics, e-waste, and the socio-technical networks of activism and dissent. Recent publications appeared in International Journal of Communication, European Journal of Cultural Studies, Television and New Media, and Javnost-The Public.

Olli Tapio Leino, City University of Hong Kong
Olli Tapio Leino is a philosophy of computer games and new media art scholar focusing on materiality, experience, emotion, interpretation, and performativity in computer games and playable art. His recent publications include an article on the technological specificity and playful practice in Mahjong in Games & Culture (2017), an article on the neoliberalist underpinnings of computer games in Journal of Gaming & Virtual Worlds (2016), a chapter on romantic attraction to computer game characters in the Game Love anthology (2015), a chapter on ontology of gameplay in Springer anthology Philosophy of Computer Games (2012) and an article on the technological specificity of single-player computer games in Game Studies (2011).

Hanna Wirman, Hong Kong Polytechnic University
Dr. Hanna Wirman is a Research Assistant Professor at the School of Design of the Hong Kong Polytechnic Universitywhere she leads the Game Development stream of the M.Sc. in Multimedia & Entertainment Technology. As Adjunct Assistant Professor at the Department of Cultural and Religious Studies of the Chinese University of Hong Kong, she has been teaching 'Visual Research Methods' for M.A. in Visual Culture Studies since 2012. Hanna researches emerging player groups and social innovation in games and leads educational and socially responsible game design and development projects working closely with the local community and NGOs in Hong Kong. Her work has been published in journals such as Transformative Works and Cultures, Game Studies, Simulation & Gaming, and Television & New Media. She co-edited a game research and design anthology Extending Experiences: Structure, Analysis and Design of Computer Game Player Experience with Leino and Fernanzed in 2008. Hanna's PhD research focused on women players and their co-creative participation in the design of The Sims 2 through game modification. Currently, Hanna's research approaches non-human animals as players. She builds games for orangutans' enrichment and for cross-species communication.

Christopher B. Patterson, Hong Kong Baptist University
Christopher B. Patterson is an Assistant Professor of Humanities and Creative Writing at Hong Kong Baptist University. His research focuses on transpacific discourses of games, literature, and films through the lens of empire studies, Asian American studies, and queer theory. His book, Transitive Cultures: Anglophone Literature of the Transpacific, treats transpacific anglophone literature as an alternative archive for following imperial routes and invoking strategies for everyday oppositions (Rutgers University Press, 2018). His articles have appeared in American Quarterly, Games and Culture, M.E.L.U.S., and the anthologies Global Asian American Popular Cultures (New York University Press, 2016) and Queer Sex Work (Routledge, 2015). His fiction, published under his alter ego Kawika Guillermo, has appeared in The Cimarron Review, Feminist Studies, The Hawai'i Pacific Review, Drunken Boat and Mothership: Tales from Afrofuturism & Beyond. He writes monthly articles for Anomaly and serves as the Prose Editor for decomP Magazine.