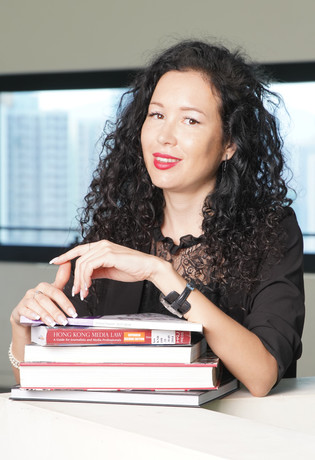 Assistant Professor
SHERSTOBOEVA, Elena
Keywords
International Law
Arts In General
Music
Background
Elena Sherstoboeva is an Assistant Professor in the School of Creative Media and School of Law, City University of Hong Kong (CityU). She a scholar and legal practitioner specialized in communication, media, and entertainment law.
She is an Associate Member of the UNESCO Chair on Copyright and Other Intellectual Property Rights, the National Research University Higher School of Economics (HSE). She is also affiliated with the Centre for Chinese and Comparative Law as well as Technology Policy and Law at the Centre for Public Affairs and Law (CPAL), CityU. Besides, she is a member of Asian Privacy Scholars Network (APSN).

Her most recent research and professional projects have focused on comparing the impact of COVID on speech and privacy regulation across East Asia and in post-Soviet states. Her previous studies examined mainly freedom of expression and media freedom and piracy in Russia and Central Asia.

She received her Ph.D. in Journalism from MSU, Russia, and her second Ph.D. in Communications from Ramon Llull University, Spain. She has an LL.M. as well as an M.A. in Journalism. She also studied copyright law ('CopyrightX') at Harvard Law School and attended several summer schools, including the leading one in her field at the University of Oxford.

Before joining CityU, she worked as a professor in the School of Media at HSE (2012-2019). In 2018, Elena was a visiting lecturer at the University of Copenhagen. She has also been a visiting fellow at the University of Pennsylvania (2015-2016) and the University of Leeds (2013). Elena started her academic career in 2009 at Moscow State University's (MSU) School of Journalism as a researcher. She then worked there as an associate professor (2011- 2012).

Since 2011, Elena has collaborated as an independent legal expert with international human rights organisations, such as UNESCO, OSCE, and the Council of Europe, as well as with the BBC World Trust Service. She has provided over thirty legal comments and reports on Internet, media, and transparency laws.

Elena was also the top counsel and CEO of her Moscow-based legal agency specializing in media and entertainment law. She has vast expertise in negotiating and revising contracts with global entertainment companies. She has also been instrumental in the launching of creative media start-ups and digital platforms.
Keywords
International Law - Digital Platforms and Content Regulation, Communication Law, Information Law, Copyright Law, Speech Regulation, Privacy Protection, Media Law and Policies
Arts in General - Copyright Law and Policies, Entertainment Law, Contract Law, Media Freedom, Artistic Freedom, Media Regulations, Contracts and Media Industry, Media Production
Music - Music Law, Live Events Management